Are you experiencing joint pain the ankles due to arthritis or a degenerative disease? If so, you may be a candidate for an INBONE Total Ankle Replacement. This is an advanced, specialized hardware that is used to replace the damaged ankle. INBONE hardware can be customized for each patient to ensure the best fit and best outcome following surgery. Complex foot and ankle surgeon, Doctor Thomas Haytmanek specializes in the use of INBONE Total Ankle Replacement technology for patients in Vail, Aspen, and the surrounding Denver, Colorado communities who require ankle restoration. Contact Dr. Haytmanek's team today!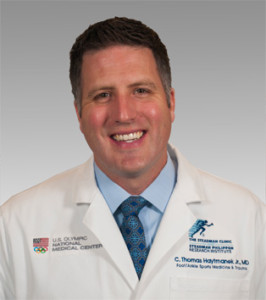 What is the INBONE Total Ankle System?
The INBONE Total Ankle System is a specific brand of ankle replacement hardware that we use in our practice at the Colorado Sports Foot and Ankle Group in Vail, Colorado. The INBONE Total Ankle System consists of a talar dome with a modular talar stem, a tibial tray, a four-component tibial stem assembly which attaches to the tibial tray, and an ultra-high molecular weight polyethylene insert, abbreviated as UHMWPE.
The INBONE System has a wide variety of sizes to best match our patient's specific ankle anatomy and to provide them with the best possible ankle replacement. We also use pre-operative CT scans to create custom make cutting guides for each patient.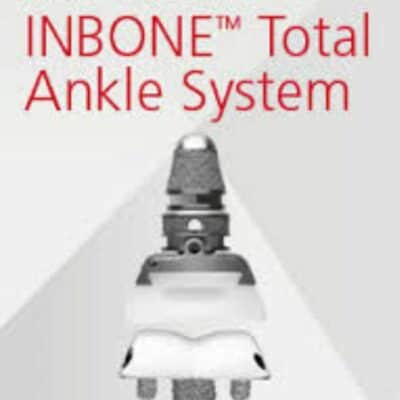 Why would I need the INBONE Total Ankle System?
Patients who are good candidates for the INBONE Total Ankle System have severe damage in the ankle joint, often caused by one or more of the following conditions:
Osteoarthritis
Severe rheumatoid arthritis
Posttraumatic arthritis
Degenerative joint disease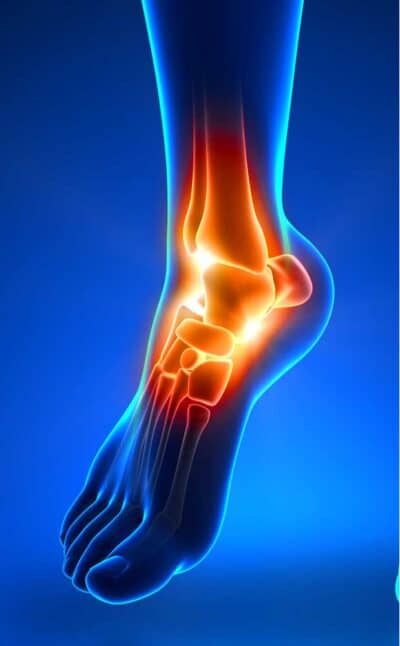 What does the INBONE Total Ankle System do?
The INBONE Total Ankle System is a complete ankle prosthesis, used to replace a diseased ankle joint. The INBONE System is designed to reduce pain and restore the alignment of the ankle. The implant is designed to restore as much motion as possible for each patient while stabilizing the joint.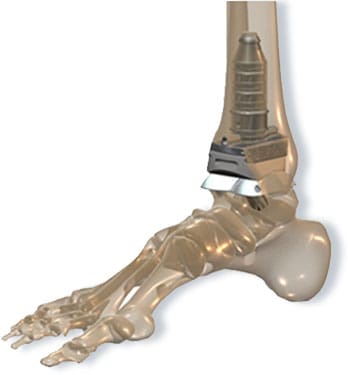 Am I a good candidate for the INBONE Total Ankle System?
If you are considering an ankle replacement, you should talk to our specialists at Colorado Sports Foot and Ankle. They will discuss your lifestyle, health and goals after surgery. Our physicians will also evaluate your x-rays and alignment of the foot and ankle to suggest the best type or replacement.  Individual results can vary, depending on my factors which include prior activity level, age, weight and underlying health conditions. Let us help you decide if the INBONE Total Ankle System is right for you.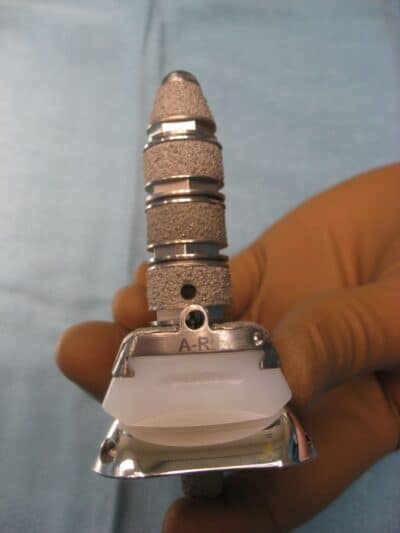 What is the Prophecy INBONE?
PROPHECY INBONE is a pre-operative navigation guide that is patient-specific and is designed to assist in the exact positioning of the ankle replacement components. The surgeon at Colorado Sports Foot and Ankle will use a combination of computer imaging and the patient's own CT scan to develop an individualized surgery plan. The size of the implant and the exact alignment are pre-determined using the patient's anatomic landmarks and his own specialized surgical skill. The PROPHECY preoperative navigation guide allows a more exact surgical implant that is specific to the patient's ankle.
What are the benefits of PROPHECY INBONE?
The benefits of preoperative navigation include:
Alignment accuracy that is computer guided
Reduces surgical and fluoroscopic steps
Less Procedural complexity
Less fluoroscopy exposure for the patient, surgeon and staff
Reduces surgical time
For more information on the INBONE Total Ankle System and if an ankle joint replacement is right for you, please contact the office of Colorado Sports Foot and Ankle, Orthopedic Foot and Ankle surgeons serving Vail, Colorado and the surrounding Eagle, Vail Mountain Range Community.