Active
For Life
Movement allows us to define our lives through physical activities

| | |
| --- | --- |
| Monday – Friday | 8:00 – 5:00 |
Sports Foot & Ankle
Welcome to the Sports Foot & Ankle website, a service of The Steadman Clinic in Vail, Colorado. Dr. C. Thomas Haytmanek is uniquely trained to diagnose and treat acute and chronic injuries of the foot and ankle. His experience makes him specially equipped at treating complex deformities, sports injuries, arthritis and cartilage injuries.
MEET DR. HAYTMANEK
Whether the condition is a sprain, a severe fracture, or advanced arthritis, Dr. Haytmanek treats all patients with equal compassion and care. He recognizes that each patient has a unique situation requiring its own tailored approach for treatment. Before moving to Vail, he practiced at Saint Alphonsus in Boise, Idaho. His clinical interests include fractures, ankle arthroscopy, cartilage restoration, and sports medicine injuries to the foot and ankle. With a focus on individual patient needs and unwavering commitment to excellence, our team provides the highest quality of care to return patients to an active quality of life.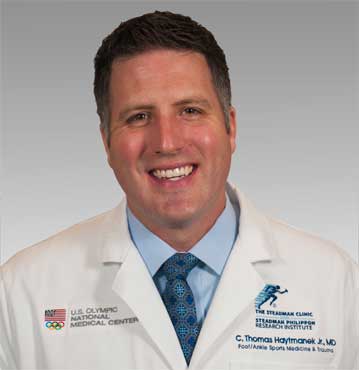 OUR HEALTH SERVICES
Using a variety of surgical approaches, including arthroscopy, and open techniques, Dr Haytmanek is skilled in treating ankle instability and sprains including high ankle sprains, osteochondral injuries of the ankle, foot and ankle fractures, bunions, arthritis of the great toe joint, turf toe, fractures, and tendon problems (Achilles, peroneal, and posterior tibial). He offers the Wright Medical INFINITY Total Ankle Replacement and the INBONE Total Ankle System for the treatment of ankle arthritis. He also has extensive experience with the recently approved Cartiva synthetic cartilage implant.
EXCELLENCE IN ORTHOPEDIC RESEARCH
Dr. Haytmanek is dedicated to providing educational information for patients and professionals seeking insight and practical knowledge on problems associated with the foot and ankle.
During his time as a Fellow at The Steadman Clinic, and while he practiced at Saint Alphonsus in Boise, Idaho, Dr. Haytmanek completed research on the foot and ankle. His research focuses include hindfoot fusion nails, total ankle arthroplasty, and cartilage repair.